True Animal Protein Price (TAPP) Coalition is a coalition of health organizations, animal welfare organizations, social ventures and food industry working towards effective policy measures aimed to lower consumption of meat and dairy in the Netherlands and in the EU. It was established in 2018 in the Netherlands and will be a non-profit foundation in 2019.
Our vision: Paying the true price of meat and dairy becomes the norm for better health, environment, animal welfare and social justice in the Netherlands and throughout Europe.
Our mission: To enhance the understanding of animal protein production and consumption and to promote the 'true' price of meat and dairy to protect health, the global environment and the ability to sustain life for future generations.
We are designing policy measures for a sustainability contribution on meat which reflects the 'true price', including the costs of environmental, nature and health costs. The money from the sustainability contribution can be used to make agriculture more sustainable and to compensate low and middle incomes.
Building upon available expertise, TAPP pursues its mission in the following ways:
1. Reducing the European consumption of meat and dairy products to benefit people's health, the environment, nature, animal welfare and for agricultural sectors and countries to comply with the Paris Climate Agreement for 2030 and 2050.
2, The development of effective policy instruments in Europe to induce the shift towards more vegetable protein consumption, with a focus on financial instruments, but also on standards and information.
3. Promoting awareness and support for price measures and taxes for meat and dairy products, in order to comply to the Paris Climate Agreement and paying the 'true price'. This includes the publication of scientific publications.
4. Promoting a flexitarian diet, in which meat and fish are interspersed with vegetable dishes, out of awareness that reduced meat consumption has a positive impact on people, animals and the environment.
5. Stimulating leadership in the field of international cooperation related to a Climate Agreement for the livestock farming sectors.
6. Reducing and compensating negative effects of the global effects of meat and dairy consumption on the planet and health.
7. Initiate and execute campaigns.
Partners:
There is another group of organizations, sharing the basic ideas of the Tapp Coalition. In June 2019, those organizations signed a Manifesto, written by Urgenda and Tapp Coalition for the Dutch Government, asking to introduce a tax on meat of 2 euro per kg meat, to reduce at least 0,5 Mton CO2-eq. in The Netherlands. This will lead to a reduction of 14% of meat consumption (One day per week without meat). The tax revenue can be used to stimulate sustainable and extensive farming, to lower the price of vegetables and fruits and to compensate low income households. In Dutch: https://www.urgenda.nl/wp-content/uploads/190529-Urgenda-maatregel-minder-vlees.pdf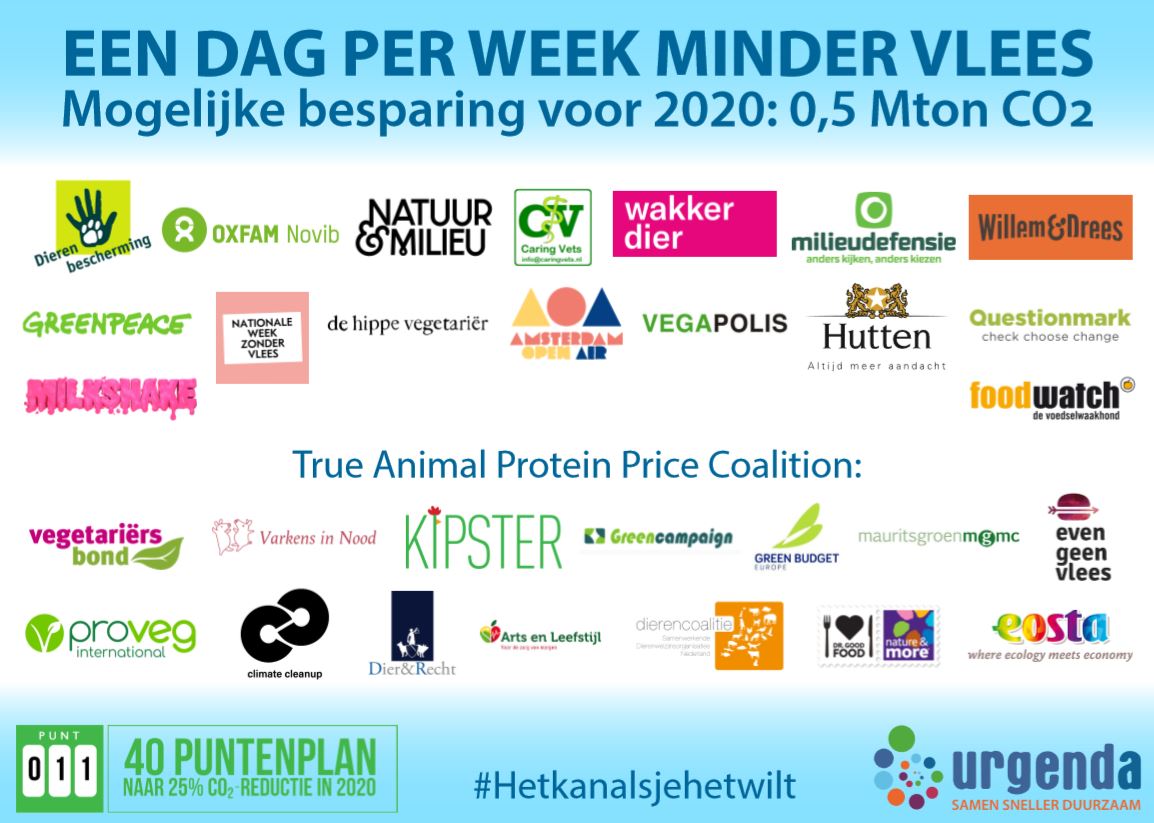 Our team: Board members, Director, Partners and Advisory Board members
Jeroom Remmers

Director

Professor Pier Vellinga

Chair of Board

Ruud Zanders

Director Kipster

Tamara de Weijer (Chair of Doctors & Lifestyle)

Partner

Edwin Bark

ex Managing Director Tivall Europe Nestle;

Board member

Volkert Engelsman

CEO Eosta (largest EU organic vegetable company)

Partner / Member of Advisory Board

Floris de Graad

Director League of Vegeta-rians

Secretary of the Board

Peter Haring, Unilever

Board member (personal involvement)

Eero Yrjo Koskinen, Director Green Budget Europe

Anna Kruyswijk - vd Heijden, Doctor (no longer active), author, "Jouw Voeding" and Dr. Goodfood.

Member Advisory Board

Maurits Groen, Director MGMC, partner / Member Advisory Board

Hans Baaij, Director Varkens in Nood

Linda Herms

Partner EY, Treasurer Tapp Coalition

Armanda Govers,

Even Geen Vlees

Board member

Veerle Vrindts

Director ProVeg Netherlands

Ted van den Bergh, Director Triodos Foundation

Bram van Liere, Friends of the Earth Netherlands (Milieudefensie)
Donations can be sent to bankaccount NL27TRIO0379737965 of Tapp Coalition, Amsterdam. Please mention: 'donation' and your name and email address. Questions: info@tappcoalition.eu