TAPP Coalition event 'True price of meat' in European Parliament with Bas Eickhout (Greens), M. Chahim & S. Spurek (S&D)
Published on 14-01-2020
The TAPP Coalition is organizing a breakfast event in the European Parliament Building, on 5 February (8-9.30 a.m, entrance Parliament at Place de Luxembourg) hosted and moderated by Bas Eickhout, vice chair of 'the Greens', and co hosted by Mohammed Chahim and Sylwia Spurek of the 'Social Democrats', the party of Frans Timmermans. During the event, the TAPP Coalition will present the translated report of CE Delft 'Sustainability price on meat' presented by author Robert Vergeer, stating that if all EU member states, would introduce a 'true meat price' of 17-47 eurocents per 100 gram of meat, CO2 emissions will fall with 119 Mton CO2 eq. per year. This is more than all CO2 emissions from four EU members: Ireland, Denmark, Estonia and Slovenia combined. This is very relevant for the European CO2 issue (Paris Climate Agreement) and the leading role of Europe, wants to play in the world, with the European Green Deal to make Europe the first continent to be climate neutral. In addition, the TAPP Coalition will present its own report with proposals for implementing the European Green Deal regarding 'true pricing' of meat and dairy and CO2 reduction in these sectors, in Europe and worldwide. The event is organized together with Compassion in World Farming Europe. CIWF is one of the partners of the TAPP Coalition, in the Netherlands and internationally. The event and (the translation of) the report are made possible by Proveg International, another partner of the TAPP Coalition. The TAPP Coalition is supported by farmer organisations, environmental and health organisations and animal welfare organizations and is a new foundation, based in Amsterdam.
For registration, please sent an email before 24th of January to: info@tappcoalitie.nl
Please mention your name, family name, date of birth, nationality, type ID card and nr. Bring your ID card.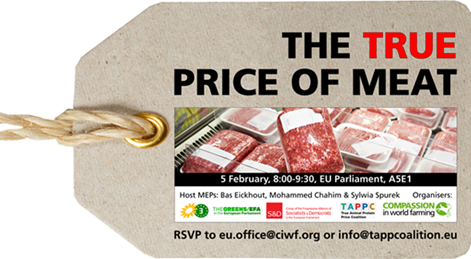 PROGRAMME
Host MEPs: Bas Eickhout (Greens/EFA, the Netherlands), Mohammed Chahim (S&D, the Netherlands) and Sylwia Spurek (S&D, Poland)
Organisers: True Animal Protein Price Coalition (TAPP Coalition) and Compassion in World Farming Moderator: MEP Bas Eickhout (Greens/EFA, the Netherlands)
8:00 Registration and breakfast
8:20 Welcome and background – MEP Sylwia Spurek (S&D, Poland)
8:30 "The benefits of sustainability and health taxes on meat in EU countries," Robert Vergeer, Researcher, CE Delft, the Netherlands
8:40 "TAPP Coalition Report 'Aligning EU food (pricing) policy with the European Green Deal', the true pricing of food including CO2 costs," Jeroom Remmers, Director of the True Animal Protein Price Coalition
8:50 "Reflections on the true cost of production of animal products," Olga Kikou, Head of EU Office of Compassion in World Farming
8:55 Reactions by MEPs
9:10 Q&A
9:25 Closing remarks – Mohammed Chahim (S&D, the Netherlands)
RSVP to eu.office@ciwf.org or info@tappcoalitie.nl